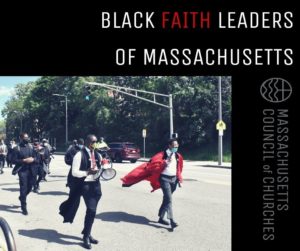 I am excited to start my new role at the Massachusetts Council of Churches as Associate Director. Massachusetts Council of Churches has been impactful in my view of the church. I have the opportunity to work with churches across denominational divides. The mission and vision of MCC have driven a different understanding of the Global Church. I am grateful to make strides to continue to impact the Kingdom of God and further knowledge in the future.
I have come "a mighty long way" from growing up in rural South Georgia and Middle Georgia. I am indeed grateful for my upbringing and formation in the Black Baptist church. The roots of the Black church run deep. My educational journey started at American Baptist College in Nashville, TN. This little Historically Black College and University (HBCU) shaped my Liberation Theology views and the raising of Prophetic Voices. American Baptist College taught leaders to weave a beautiful tapestry of caring for the least, preaching truth to power, and empowering a community. The principals, as mentioned earlier, were seen in real-time by alumni such as late Representative John Lewis, late Rev. Dr. C.T. Vivian, and Rev. Dr. Bernard LaFayette, Jr.
I came to New England to attend Gordon-Conwell Theological Seminary. Almost ten years, I came to visit GCTS at an Open House. I had no clue that
the trip would be the start of a new journey in my life. GCTS taught her students to love the word of God and to seek the lost. People from all across the globe studying in one place from various backgrounds helped me see God from a complex viewpoint. GCTS was informative and provided the chance to spend time with my first-generation Korean suitemate, become friends with colleagues from wealthy areas in New England, and begin to understand the gospel from different parts of the globe.
When I accepted the position as Director of External Relationships, I wanted to bring all of me to the table. It has been an arduous task at times to get my authentic self, the perspective of an African-American male, from meager means to the table. I appreciate the opportunity to work with Rev. Laura Everett, Rev. Carrington Moore, and the Board. Rev. Everett has requested on numerous occasions for me to bring my genuine self to MCC. I continually try my best to take my formation as a Black Baptist, New England seminary trained, and Suburban Black Pastor (Haverhill, MA) into this ministry work daily.
In this new role at MCC, I look forward to continuing to solidify a Black Faith Leaders Network, bringing more diverse voices and backgrounds to the council, and collaborating with organizations to bring about a more equitable world for all humans. Accepting this role is humbling, and I will lean on the strength of the Divine to accomplish goals. I ask that you pray for my family, Adrianne, Jael, and Zion, as I transition to this new role at the Massachusetts Council of Churches.
My prayer is the God will be glorified in the work that we continue to do at the Massachusetts Council of Church.