The Rev. Laura E. Everett serves at the Executive Director of the Massachusetts Council of Churches. A graduate of Brown University, Laura received her Master of Divinity from Harvard Divinity School. Ordained by the United Church of Christ, Laura is formed by many parts of the Church. She is happiest exploring somewhere new, preferably by bike. A dedicated urbanist and bicycle evangelist, Rev. Laura is the author of "Holy Spokes: The Search for Urban Spirituality on Two Wheels." Committed to the renewal and thriving of vibrant Christian institutions, she serves as an advisor with Leadership Education at Duke Divinity School. Laura is also the co-host of the podcast "Can These Bones" with Bill Lamar, from Faith & Leadership at Duke Divinity School. Laura aims for attraction not persuasion. A moderately competent seamstress, Laura loves working with her hands.
Rev. Kenneth Young earned a bachelor's degree in Bible and Theology from American Baptist College, graduating with honors, in 2010. While in Nashville, he served as Overseer of Christian Education for the College Ministry of over 2,500 students at Mount Zion Baptist Church, Bishop Joseph Walker III, pastor. He also worked as a manager at Kroger where he was nominated for the Division's President's Award.
He has completed a Master of Arts in Religion and a Master's Degree in Church History graduating with honors at the Gordon-Conwell Theological Seminary in South Hamilton, Massachusetts. He is a: Michael Haynes Scholar, Byington Scholar, member of the Theta Alpha Epsilon Honor Society, and served as president of the Black Student Association. He is honored to serve as Pastor of Calvary Baptist Church in Haverhill, MA.
Rev. Young believes that ministry needs to take root in desolate areas. He hopes to carry his ministry to impoverished regions helping in the areas of education and employment. Rev. Young is a native of Sylvester, GA. He is the middle of three children to Robert and Sue Young. Rev. Young is married to the love of his life, Adrianne D. Gladden-Young.
Reverend Bria Belim affectionately known as Pastor Breezy, is a truth seeker and preacher. Raised in the Church, she has walked in faith not just by sight, and has made it her mission to be her sister and her brother's keeper locally and the church at large.
Reverend Bria has attended Mount Ida College where she has earned her Bachelors of Applied Sciences focusing on Bereavement and Funeral Services. Reverend Bria is a graduate of Payne Theological Seminary where she received her Master of Divinity degree. She Focused her thesis work on Pastors and Clergy. Reverend Bria is currently enrolled in the Transforming Traditional Congregations in the Doctoral Program at Payne Theological Seminary.
Reverend Bria is a fourth generation AME church member. In April 2019, Reverend Bria was elected and ordained an Itinerate Deacon in the AME Church. On June 25, 2020, she was elected an Itinerate Elder in the AME Church. On August 27, 2020, she was appointed to Delaine Waring AME Church where she serves the greatest people in African Methodism as their youngest pastor in history.
A true millennial, multitasking and innovation is embedded in her DNA. When she's not ministering or mentoring to the youth she is working with an organization called FAMILY MOVEMENT, helping single mothers go from homeless to home ownership. You can also find her giving workshops and presentations on the importance of social media in the churches.
Horizon S. is the administrator for MCC. Her work centers uplifting, advocating, and exploring the unique, beautiful, and complex cultures and social identities across the globe.
Jennie Barrett Siegal recently became the Senior Pastor of Old South Union Church after serving for six years as our Associate Pastor. She is a graduate of Vassar College and received her Master of Divinity degree from Harvard Divinity School. Prior to serving at Old South Union Church, she completed her first two years of ordained ministry as a Pastoral Resident at Wellesley Congregational Church in Wellesley, MA. Jennie is originally from Rochester, NY, where she was born and raised. She grew up in a large United Methodist Church in Rochester, where she first experienced God's call to the ministry. During the ordination process, however, she found her home in the United Church of Christ.
Jennie hasn't yet discovered an area of ministry that she doesn't enjoy. Her particular interests include preaching and worship leadership, Christian faith formation, and intergenerational fellowship and service opportunities. Jennie is eager to connect with church members and visitors to learn more about their stories and to discover how God is at work in their lives. She will gladly invite you to coffee or tea if you would like to chat!
Jennie has been active in the wider life of the United Church of Christ through the Pilgrim Association Church and Ministry Committee, the Commission for Evangelism and Congregational Vitality of the Massachusetts Conference, and the 2030 Clergy Network (a network of UCC clergy in their 20s and 30s).Jennie and her husband Jon have a dog named Vegas, who serves as the official office greeter at the church. Jennie enjoys reading both fiction and nonfiction, and she loves to cook. She and Vegas also enjoy their early-morning walks.
Thatcher L. Freeborn serves as Vice President, Commercial Loan Officer, Specialty Lending, for Boston Private. He brings more than 14 years of experience in the financial industry, with a strong foundation in working with nonprofit organizations, giving him a deep understanding of the unique needs of the nonprofit segment.
Previously, Thatcher held the positions of Vice President, Commercial Loan Officer – Healthcare & Not for Profit as well as Vice President, Branch Manager at Century Bank, where he served as a trusted adviser to individuals, businesses and nonprofit institutions on a wide variety of banking concerns. He also led various retail banking groups at Century Bank, where he served as a trusted adviser to individuals, businesses and nonprofit institutions on a wide variety of banking concerns.
Thatcher is a graduate of Hamilton College where he studied Economics and was an All-NESCAC athlete. He is currently a Ruling Elder at Fourth Presbyterian Church, Treasurer of The Vinton Street Hope Initiative, Inc., and Board member of the Boston Food Justice Young Adult Volunteer Program within the Presbytery of Boston. He is a Past Moderator of the Presbytery of Boston, Past Chair of the Stewardship and Budget Committee of the Presbytery of Boston, and past Trustee for the Synod of the Northeast of the Presbyterian Church USA. He is married to Erin Freeborn, M.Div. JD, Executive Director of Communities for Restorative Justice. They reside in Melrose Massachusetts with their three daughters.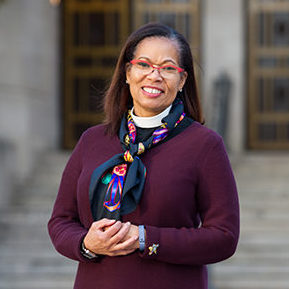 Rev. Dr. Karen Coleman serves as the Episcopal Chaplain and Campus Minister for the Episcopal and Anglican Community at BU. She also serves as a Spiritual Director through the Office of Spiritual Life at BU STH. Rev. Coleman recently served as rector of St. James Episcopal Church, Somerville from 2010 until October 2017. She was the first African-American woman installed as a rector in the history of The Episcopal Diocese of MA.
Prior to becoming rector/chaplain, she served as the priest-in-charge of Trinity Church, Randolph, and as an assistant priest at Christ Church in Needham. She is a graduate of the University of Michigan where she holds a B.A. in Art History and a masters and Doctor of Ministry degree from Episcopal Divinity School in Cambridge. The title of her thesis was "Episcopal Female Clergy Leaders of African Heritage: Trailblazers and Colleagues". She served two years as a seminarian at Trinity Church, Boston, and as a transitional deacon at St. James's Church in Cambridge. She was ordained to the priesthood in 2004. Prior to her seminary studies, she worked as the assistant director of alumni relations and development at East Stroudsburg University in Pennsylvania and as a fund development consultant for Girl Scouts of the USA, NYC.
She currently serves on the Episcopal Diocese of MA Diocesan Council, is a member of the Diocesan Disciplinary Board, and is the diocesan clerical representative to the Provincial Synod of New England Episcopal dioceses.
Musician, visual artist, and educator. He has worked in church settings for more than two decades as a musician, liturgist, teacher, and consultant on Worship and the Arts, and is a Licensed Minister with the American Baptist Churches of MA. Leonardo has served as an adjunct instructor at Gordon-Conwell Theological Seminary, and currently works professionally in the field of Applied Linguistics. He is a violinist with the New England Philharmonic, and plays in other ensembles and orchestras in Boston.
Ms. Forrer is a marketing and broadcast executive with more than 20 years of experience in the cable television industry. Her experience includes both consumer and business-to-business marketing in for-profit and nonprofit organizations. Most recently she was at Gordon-Conwell Theological Seminary as Vice President, Enrollment Management and Marketing.
Forrer joined Gordon-Conwell from Williams & Williams, a real-estate concern, as General Manager, auctionnetwork.com, where she was responsible for hosted digital programming. Forrer joined Williams & Williams after nine years at National Rural Telecommunications Cooperative. As Vice President of Video Services, Forrer developed the strategic business direction for the Video Services business unit, which secures programming and advanced television rights with the nation's largest content providers, and supports rural broadband providers planning to offer video service. In her prior role as Senior Vice President and General Manager with the TV Guide Channel, Forrer led product vision, marketing strategy and positioning for the network. Additionally, she led a 65-member cross-functional team to develop a content distribution and management platform. Forrer's product management background has included user over-the-top, video-on-demand and a video content management and delivery platform that leveraged artificial intelligence for which she and the team were awarded a patent.
Forrer is a communications graduate of Syracuse University S.I. Newhouse School of Public Communications and the recipient of multiple industry awards, including two CTAM Awards for Marketing Excellence, Addy Award, BDA Silver Award and Telly Award. She has participated in numerous panels and presentations at various cable and broadband association conferences and meetings.
Ms. Forrer is committed to personal ministry and most recently served as a Bible teacher and lay leader with the singles ministry at McLean Bible Church outside Washington, DC. She is originally from the Boston area, growing up in Sudbury, MA, and she attended Grace Chapel after college. She currently calls Netcast Church home.
Hailing from Buffalo, New York, Jay despises the snow and dreams of life in Wakanda. To wit, he is pretty much obsessed with "Black Panther"—as well as the 1980s cartoon series "The Thundercats."
Rev. Dr. Jay Williams returned to Union United Methodist Church as lead pastor on July 1, 2018, having guided this congregation September 2012 – June 2017. An ordained Elder in The United Methodist Church, Jay has served congregations in New York City, Boston, and San Francisco, including Glide Memorial.
Rev. Williams holds a Master of Divinity with highest honors from Union Theological Seminary in the City of New York (2009) and the Bachelor of Arts magna cum laude from Harvard College (2003). In May 2017, Jay received the Ph.D. in the Study of Religion from the Harvard University Graduate School of Arts and Sciences. Dr. Williams's work explores the meaning of "Spirit" in black cultural discourse at the intersection of race, class, gender, and sexuality: particularly how spirit-talk has been a marginalizing language of power. The dissertation, entitled "Unholy Ghosts in the Age of Spirit: Identity, Intersectionality, and the Theological Horizons of Black Progress," develops a constructive theology of spirit that rethinks hope, courage, and vitality, premised on insights from W.E.B. Du Bois, Zora Neale Hurston, and Howard Thurman. Through his pastoral and academic work, Jay strives to help more disinherited folk find their voices.
Rev. Kyungmoon Yoon serves as an Associate Pastor at the Korean Church of Boston (PCUSA) in Brookline, Mass. She had served as a member of the Committee on Ministry at the Presbytery of Boston. She currently serves on the Committee on Representation in Presbytery of Boston.
She was born in Seoul, South Korea and came to the US for advanced studies at Boston University. She served several years as a seminarian at the Korean Church of Boston, a Korean-American immigrant church, and she was ordained in 2007 at this church.
She holds a B. A. in Theological Studies and Th. M from Yonsei University, South Korea. Also, she holds a M. Div. degree from Boston University and was in the Ph. D. Program, concentrating on Spirituality.
Previously, she had served a board member of Korean American Presbyterian Clergy Women. For the National Korean Presbyterian Women in PCUSA, she had served as a chair of the education committee for several years.